Access Controller
What's in the Box
Access™ controller
USB cable
8 Pillow button caps (attached to controller)
4 Flat button caps
4 Curve button caps
2 Overhang button caps
1 Wide flat button caps
Standard stick cap
Dome stick cap (attached to controller)
Ball stick cap
23 tags
Quick start guide and safety guide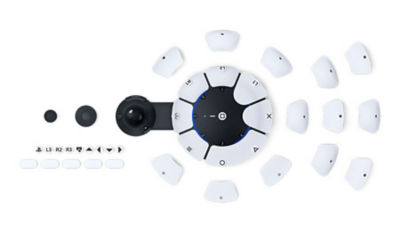 Access™ controller key features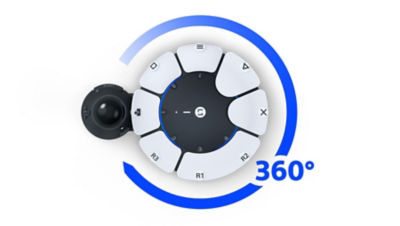 ADAPTABLE PLAY STYLES
Swappable button and stick caps – configure the Access controller's button layout to suit your range of mobility and switch between the included stick caps to find the shape and texture that works best for you.
Adjustable stick length – lengthen or shorten the control stick's extension arm, then lock it down at your ideal length for comfort and convenience.
Built for easy access – place the controller wherever play is most comfortable for you: from any 360° orientation, on different flat surfaces, a wheelchair tray, or attached to an AMPS pattern mount*.
EXPANDABLE INPUTS
Join forces with other controllers – use up to two Access controllers together or combine one or two Access controllers with a DualSense™ or DualSense Edge™ wireless controller to add features like haptic feedback, adaptive trigger, motion sensor, and touch pad swipe to your setup.
Add extra control devices – connect additional buttons, specialty trigger switches and other compatible accessories via the Access controller's four industry standard 3.5mm expansion ports, and configure their inputs via your PS5® console settings.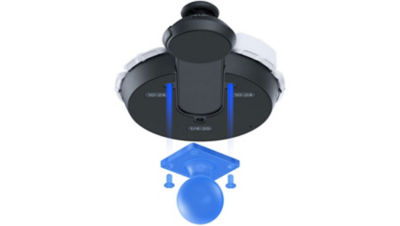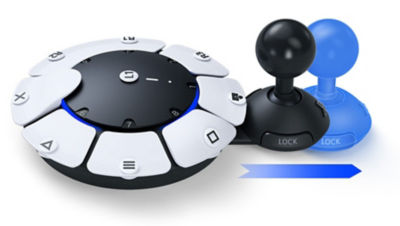 CUSTOM PROFILES
Configure up to 30 individual control profiles from your PS5 console settings, store three profiles on the Access controller and quickly switch between them with a dedicated button, enabling you to use the most suitable control layout and button functions for what's happening in-game.
Configurable buttons – map button inputs so the commands you need are exactly where you want them, set button presses to toggle commands on/off or to serve as a single-press input, or disable buttons altogether to stop accidental pressing. You can even map two commands to a single button for more user-friendly play.
Adjustable stick settings – calibrate the "north" direction for flexible positioning of the controller. Tailor stick sensitivity and deadzone to better suit your personal control needs.