R1, R2, & R3 – What is up with these on PS4/PS5 game listings?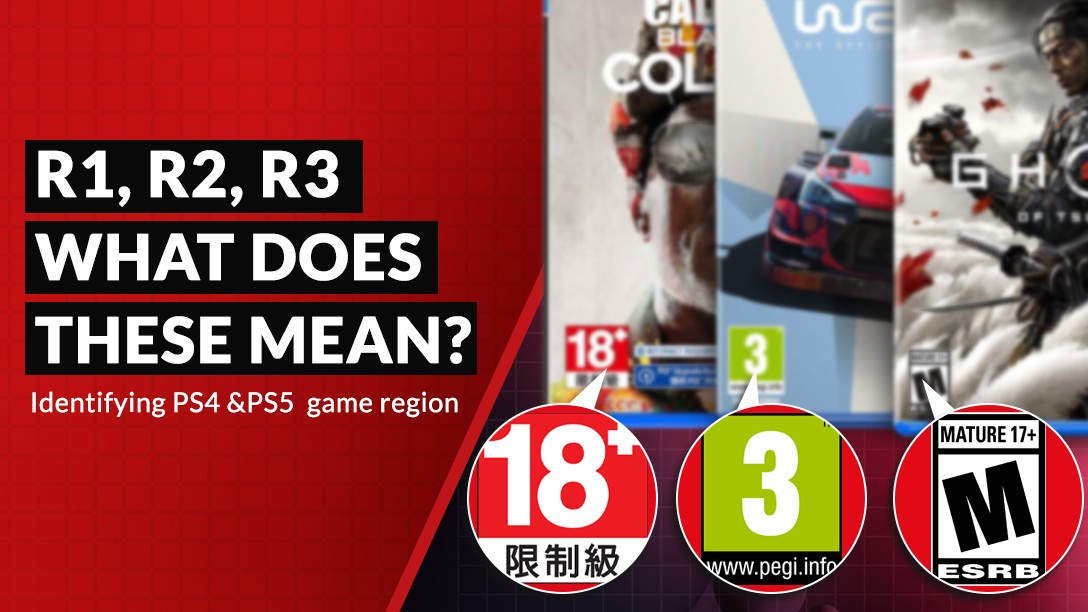 Here is a scenario: you're a complete newbie to this whole Playstation console thing and you have recently bought your PS4 or PS5. Of course, what will your console do if you don't have a game to play with it? So you scour the internet to find games. In your web browsing chronicles, you finally find the game you've been looking for. You're about to buy it but then, you see another listing of the same title but it looks different somehow. Then, you see that there seems to be a code following the title. It says R1 and the other one says R3. But what's the difference? And when the product gets to you, how can you verify that you received the correct one?
Well, this guide will help you answer those questions and more. So let's get to it!
Identifying PS4 game region
What are R1, R2, and R3?
This refers to the region of the game. You see, games are released in different parts of the globe. So this code gives you an idea of where the game was released/distributed. For your reference, here is the list of regions and the areas they cover.
R1 – US: Bermuda, Canada, United States, and U.S. territories
R2 – EUROPE: The Middle East, Western Europe, Central Europe, Egypt, French overseas territories, Greenland, Japan, Lesotho, South Africa, and Swaziland
R3 – ASIA: Southeast Asia, Malaysia, Singapore, Indonesia, Thailand, Hong Kong, Macau, South Korea, and Taiwan
There are other existing regions aside from these but these particular ones are what you usually see here in the Philippines.
So what's the deal with these region codes?
There used to be a "region-lock" which means that if your console and game are released in different regions, you won't be able to play the game! It just won't work. This was established mainly to protect the user from accessing certain content in their territory because of legal reasons *ahem* censorship *ahem*and other reasons that we will not be going into too much detail as they are not as impactful as before. So gone are those days since both PS4 and PS5 are now region-free. Meaning, no matter the region of the game and where your console is manufactured, you'll be able to play any game offline (provided that it's indeed playable offline).
But region-matching is not totally lost because it's still applicable and required in:
Claiming downloadable codes (DLCs)
Playing online multiplayer
Retrieving game data save
So how do you identify a game's region?
When identifying the region of the game, you need to look at three things on the game case:
Video game rating system
SKU ID
Distribution code
Video Game Rating System
This is a system used to classify the suitability of video games based on their target audience. Since it's closely tied to the regions' culture, there may be differences in age brackets vis-a-vis the rating of the organization that reviews the content. This is also the reason why the EU version of some games are censored.
R1
Entertainment Software Rating Board (ESRB) Rating
Everyone
Everyone Ages 10+
Teens
Mature audience
Adults Only



R2
Pan European Game Information (PEGI) Rating
Unterhaltungssoftware Selbstkontrolle (USK) Rating
For all ages
Ages 6 and over
Ages 12 and over
Ages 16 and over
Ages 18 and over
R3
Taiwan Entertainment Software Rating Information(TESRI) Rating
General Public
Protected
Parental Guidance 12
Parental Guidance 15
Restricted
On PS4 cases, you can easily see this in front located at the lower-left part of the cover. At times, it is also included in the back cover albeit smaller. Here is a sample:
As you can also see on the table, each organization has distinct colors and presentations of the rating. R3 is a bit of a special case. Certain releases bear no rating at all. Like this one:
SKU ID
This is an internal numeric coding system to identify any released game. Think of it as your ID number in your student, employee, PhilHealth, SSS, or GSIS ID. It's a unique string of alphanumeric characters. BTW, SKU stands for Stock Keeping Unit. It usually includes a product code and a unique ID. The product code is distinct to a region, and the common codes you'll see are CUSA, PCAS, and PLAS. It is followed by a unique number ID. The common format is:
Product code
Number ID
You can find it on the spine of the case. Here is a sample:
R1
Marvel
Spider-Man
3004313
R3
Katana Kami
PLAS
10556
R2
Biomutant
CUSA
09848
Distribution code
It has no official name but we'll call this as such since it basically signifies where the game copy was distributed/released. It is enclosed in a small square with line art of a globe and a number next to it. It is generally found at the bottom part of the back cover:
A fair warning: you might say that it would be easier to use the distribution code as a basis. It's a yes and no for us. If you see a specific number then you're good to go but what if you see "All"? What region is that? Some forums would say that R-All also stands for R1 but this is inaccurate seeing that some R3 games bear this label also. Just look at this side by side of R1 and R3 copies of God of War:
To accurately determine the region of the game, we recommend looking at the rating and the SKU ID instead. A quick look at just one of them will give you the answer you need.
In summary:
Region
Country
Rating
SKU ID
Distribution code
R1
US
ESRB
Number only
CUSA + number
1, All
R2
Europe
PEGI, USK
CUSA + 2 number strings
2, All
R3
Asia
TESRI, unrated
PLAS + number
PCAS + number
3, All
Identifying PS5 game region
If you're already well-versed with the PS4 region coding, identifying the region in PS5 is much easier. It employs the same conventions but with a few changes*. Now, the distribution code is no more and what's left are the rating and SKU ID. Refer to this table:
Region
Country
Rating
SKU ID
R1
US
ESRB
Number only
R2
Europe
PEGI, USK
PPSA + number
R3
Asia
TESRI, unrated
ELAS + number
ECAS + number
and of course, here are some examples:
PlayStation Store Regions
| | | | | |
| --- | --- | --- | --- | --- |
| North America, South America (SIEA) | Europe, Africa, Middle East, Oceania (SIEE) | Asia (SIE Asia) | Japan (SIEJ) | South Korea (SIEK) |
| Argentina | Australia | Brunei | Japan | South Korea |
| Belize | Austria | Cambodia | | |
| Bolivia | Bahrain | Hong Kong | | |
| Brazil | Belgium | Indonesia | | |
| Canada | Bulgaria | Lao People's Demoncratic Republic | | |
| Chile | Coratia | Macau | | |
| Columbia | Cyprus | Malaysia | | |
| Costa Rica | Czech Republic | Philippines | | |
| Dominican Republic | Denmark | Singapore | | |
| Ecuador | Finland | Taiwan | | |
| El Salvador | France | Thailand | | |
| French Guina | Germany | Vietnam | | |
| Guam | Hungary | | | |
| Guatemala | Iceland | | | |
| Guyana | India | | | |
| Honduras | Ireland | | | |
| Mexico | Israel | | | |
| Nicaragua | Italy | | | |
| Panama | Kuwait | | | |
| Paraguay | Lebanon | | | |
| Peru | Luxembourg | | | |
| Puerto Rico | Malta | | | |
| United States | New Zealand | | | |
| Uruguay | Norway | | | |
| | Oman | | | |
| | Poland | | | |
| | Portugal | | | |
| | Qatar | | | |
| | Romania | | | |
| | Russia | | | |
| | Saudi Arabia | | | |
| | Slovak Republic | | | |
| | Slovenia | | | |
| | South Africa | | | |
| | Spain | | | |
| | Sweden | | | |
| | Switzerland | | | |
| | The Netherlands | | | |
| | Turkey | | | |
| | UAE | | | |
| | UK | | | |
| | Ukraine | | | |
*These are based on the available titles as of the date of posting.
So all in all, the R1, R2, and R3 that you see on your game listing refers to the region of the game. R1 stands for the US region, R2 for the EU region, and R3 for the ASIA region. You can easily identify them by looking at the rating, SKU ID, and distribution code. In terms of content, they do not have much difference except for some EU game copies that are censored. You'll also be able to play any game offline no matter their region because PS4/PS5 consoles are region-free already. However, region-matching is still applicable in certain situations. If we haven't mentioned it earlier, a workaround here is to create another PSN account that matches the region of the game. You can always switch back and forth between accounts.
We hope this somehow clarifies this PS4/PS5region mumbo jumbo. But if by chance you still have burning questions, feel free to message us! Just click on the chat icon at the bottom-right of the page.